pdf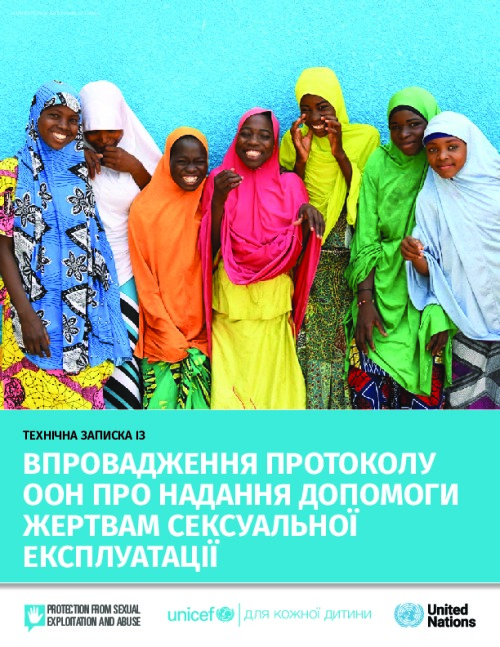 Technical Note on the Implementation of the UN Protocol on the Provision of Assistance to Victims of SEA (Ukrainian)
To support the roll out of the Protocol, UNICEF led the development of a technical note that provides guidance to support the Special Representatives of the Secretary General, Resident and Humanitarian Coordinators, the United Nations Country Teams and the Humanitarian Country Teams, PSEA coordinators and networks, PSEA focal points, gender-based violence and child protection sub-cluster coordinators, specialists and practitioners from other sectors in the area of victim assistance for women and children. The note is an inter-agency product that was developed with a technical reference group that included O/VRA, CDS/DMSPC, UNHCR, UNFPA, IOM and the IASC.
About the Technical Note:
This Technical Note is aligned with United Nations efforts to prevent and respond to sexual exploitation and abuse, as well as established inter-agency gender-based violence and child protection standards and guidance, and can be considered in all operational contexts, including in humanitarian, development and UN peace operations.  It is also aligned with the IASC priority on PSEA to scale up survivor-centered assistance, as outlined in the IASC PSEA Strategy and Acceleration Plan.
To track progress on the roll-out of the Protocol by HCs/HCTs and inter-agency PSEA coordinators and networks, indicators are integrated into the IASC PSEA global dashboard, which inter-agency PSEA coordinators in humanitarian response contexts are reporting against. 
Ukrainian
N/A
Survivor Centered Approach, Policies, Guidance & Codes of Conduct
N/A
N/A
1,307.74 KB
pdf
Ukraine
N/A